'Double' displays two sides to every artist
By Kurt Shaw, TRIBUNE-REVIEW ART CRITIC
Wednesday, March 25, 2009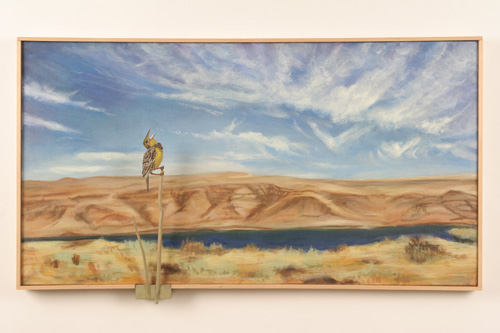 Meadowlark on the Columbia
18 1/2 x 34 1/2 x 3 3/4
What does a handgun have to do with high heels? Nothing. That's the point of the exhibition "Double Vision" on display at Luke & Eloy Gallery in Lawrenceville, where visitors will find two works by jeweler James Thurman, of University Park, that utilize both in unlikely combination.
His piece "D I V I D E D" features a handgun that has been perfectly sliced into seven sections and paired with a police target. Thurman is right on target with this piece, which he describes as a "reclaimed handgun" sculpture, delivering important social commentary about rising violence in relationship to handgun ownership. But his "Lothario Necklace," made of pearls combined with a woman's shoe and a selection of high heels, bears no connection to the former piece whatsoever.
As these two works exemplify, gallery director Brigitte Martin's goal was to present two or more works by each of the 13 artists included in the show that not only are vastly different from one another, but have unusual combinations of media in their own right.
"What's interesting about these artists is that they work in more than one media, ones that seem to have nothing to do with one another," Martin says.
On opening night, people were all abuzz about Pittsburgh artist Dan Buchanan's realistic-looking clay and wax sculpture of a hand covered in real bees and wasps. But they were equally enthralled by his full-size sugar-casts of machine guns that make up the piece titled "Arsenal."
"They were a hit," Martin says about the nine multi-colored machine gun treats. "They're like big giant lollipops -- but don't lick them."
Like Buchanan's works, many of the pairings by each of the artists are quite unusual, such as a porcelain piece combined with a video, embroidery works on display with a drawing, and a paper sculpture paired with an aluminum necklace.
The porcelain piece actually is a book sculpture that was used in a video project by Lilianne Milgrom of Fairfax, Va., titled "Living Without Them." The video, which plays on a small monitor next to the book, is about the intentional destruction of books and the resultant impact on culture and civilization.
"The porcelain book and accompanying video share a dialogue, playing off against each other," the artist writes in her statement. "The animate versus the inanimate, the physical versus the metaphorical, the victim of past transgressions versus the insuppressible hope of the future."
As for the embroidery works, they are by Pittsburgh artist Susan Constanse, who painstakingly embroidered four small pieces of cloth to replicate the designs typically atop petit-fours in frosting. Stuffed to look just like the small confections, they appear to be almost as delicious as Buchanan's machine-gun lollipops.
The drawing by Constanse that hangs next to the pieces is seemingly unrelated, just as was intended with this show. But one cannot help but draw a comparison between the delicate "Petit Fours" piece, as she calls the grouping, and the delicate abstract drawing she has on display next to them.
Gallery owner Martin is an academic jeweler by training, so as expected, this show has a lot of hand-crafted jewelry, all of which is quite unique. The aforementioned aluminum necklace, for example, created by Damia Smith of Carlyle, Ill., actually is composed of several metals, including anodized aluminum, copper and sterling silver, which the artist has crafted into many multicolored leaf shapes.
Utilizing unconventional materials all together, jewelry artist Ji-Hye Kim of New Paltz, N.Y., presents wearable art combining traditional Korean painting on clear acrylic sheeting that has been cut to hang like a necklace.
Locals likely will love Lindsay Huff's "Cayuga Lake" necklace made of driftwood, shells, fishing lures and a small boat made of brass as it makes reference to not one but many lakes and rivers throughout our region.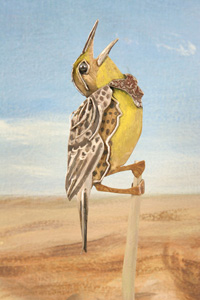 Meadowlark brooch
1 1/2 x 4 3/4
Copper, Sterling, hematite, brass, paint.
And speaking of rivers, Paula Sweet of Seattle, Wash., has ingeniously combined a bird brooch set on a twig in front of a painting of the Columbia River. "The bird is a meadowlark native to that area," Martin says. "And the best part of this piece is you can take the bird off the twig and wear it as a brooch."
Finally, Amanda Stark, a jeweler by training who lives in Toledo, Ohio, combines many metal and glass objects she created into two delicate little sculptures that look like mad scientist labware.
Several more pieces on display are equally enthralling in terms of contrast, making for an engaging experience that is a must-see before the show closes April 18.